A unique benefit auction of artworks is just around the corner. Be there.
This year's benefit auction for the hospice is the sixth in a row. It is the only auction of its kind in the Pilsen Region.
This year we have more than 80 works of art, including prints, paintings, jewellery, objects and photographs.
The hospice used the proceeds from the benefit auctions to purchase medicines, medical supplies and equipment.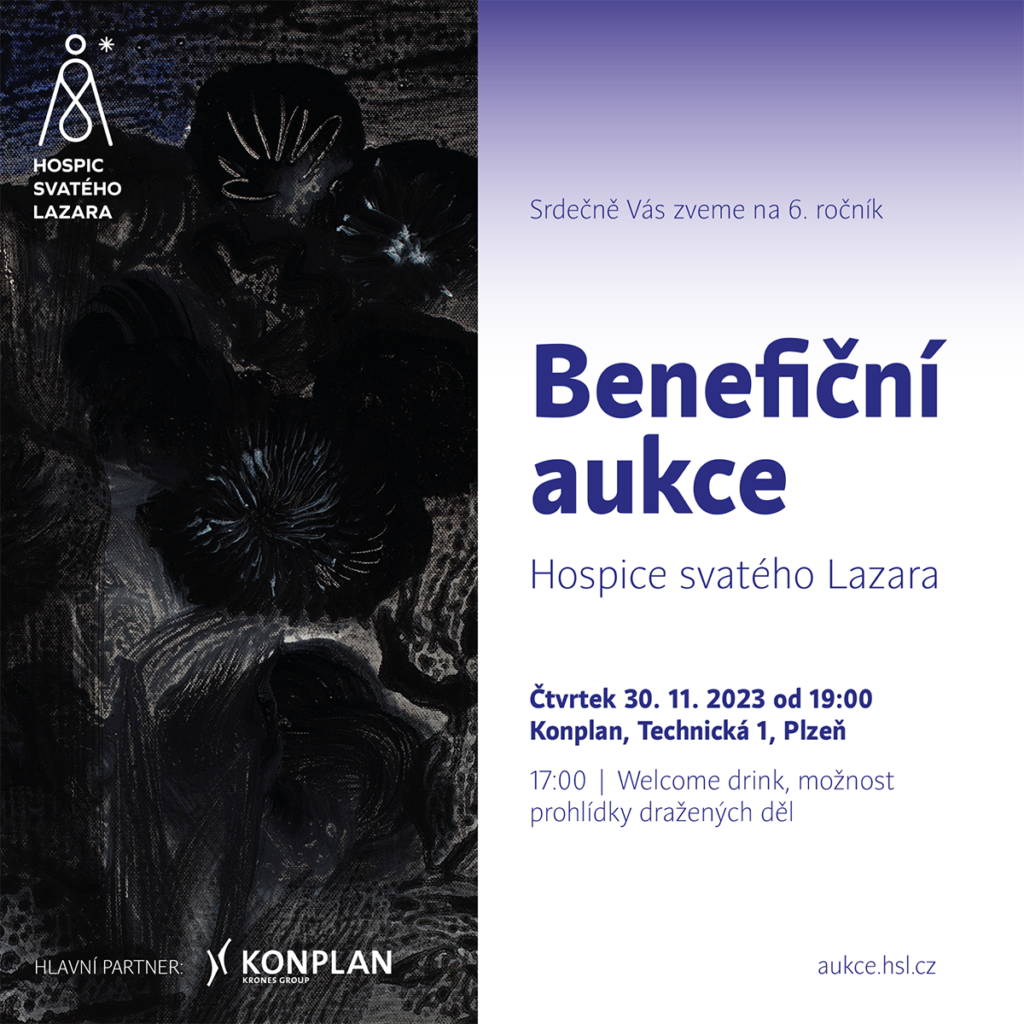 thanks to our main partner - konplan!
We have been supporting St. Lazarus Hospice for many years. This partnership is important to us because we see great meaning in the services they provide.
When the opportunity arose to hold a gala auction evening in Konplan, we did not hesitate. It is not quite common to hold such a meeting in an office building, but I dare say that we will convince visitors that our building has an extraordinary genius loci and we can dress it up in a festive way.
The charity auction is a fantastic opportunity. An opportunity for lovers of contemporary art to acquire an interesting piece for their collection and an opportunity for the hospice to be a little further along the road to a new home in the green. We are very happy to be able to organize this evening together with other partners. I hope you will find a work of art here that suits your taste and at the same time you will leave with a warm feeling that you have supported a good cause.
I am looking forward to meeting fans of modern art and supporters of the hospice.
Dr. Matthias Weinzierl, Managing Director of KONPLAN s.r.o.
Wir unterstützen St. Lazarus Hospiz seit vielen Jahren. This partnership is important for us, because we see great value in the services provided by the Hospice.
Als sich die Gelegenheit ergab, einen festlichen Auktionsabend in Konplan zu organisieren, zögerten wir nicht. Es ist nicht üblich ein solches Treffen in einem Bürogebäude zu organisieren, aber ich wage zu behaupten, dass wir die Besucher davon überzeugen werden, dass unser Gebäude einen außergewöhnlichen Genius Loci hat und wir es festlich gestalten können.
Eine Wohltätigkeitsauktion ist eine fantastische Gelegenheit. Eine Gelegenheit für Liebhaber zeitgenössischer Kunst, ein interessantes Stück für die Sammlung zu erwerben, und eine Gelegenheit für das Hospiz, auf dem Weg zu einem neuen Gebäude im Grünen ein Stück weiter voranzukommen.
Wir freuen uns sehr, diesen Abend together with other partners organizieren zu können. Ich hoffe, dass Sie hier ein Kunstwerk finden, dass Ihrem Geschmack trifft und gleichzeitig Sie so den guten Zweck unterstützen können. Ich freue mich auf das Treffen von Förderern moderner Kunst und Förderern des Hospizes.
€

209